Aiming to build connections and community, a lifestyle magazine for firefighters finds a receptive audience
MANY FIREFIGHTERS WILL tell you about the importance of the kitchen table — the place within the firehouse that, together, firefighters prepare, debrief, build relationships and navigate through the choppy, at-times-traumatizing waters of being a first responder. It is, for many, one of the most sacred places in their line of work.
Click here to read this article in magazine format
When career firefighter Kory Pearn set out to launch Crackyl Magazine in 2019 — a lifestyle magazine for firefighters — he was hoping to recreate this in magazine form: a publication that spoke about firefighting to firefighters, not to the general public.
Story Continues Below
For Pearn, it was one of those ideas that won't go away — the kind that sticks with you over the years.
"I'd pitched an idea about a firefighter lifestyle and health magazine [to a publishing firm] about six years ago, and nothing materialized; it wasn't something they wanted to do," Pearn recalls. "Time went on. Ten years in, I realized I was in a cul-de-sac — I wasn't advancing. I wanted more. I had more to give, and I decided to revisit my idea and see if I could bring it to life."
Life on the outside can be hard for those in the firefighting profession. "When firefighters fail, it's not the firefighting job, it's the peripheral life," Pearn notes. "We fight, we're in the trenches, we're battling and next thing you know we're going home and we need groceries. We don't deal with our stuff very well — and the people we're with aren't mind readers."
"We seem to have put together something that makes sense for our industry" ―Kory Pearn
Because it can be hard to talked to loved ones about the things that happen at work — good and bad — Pearn's aim for the publication was to deliver those meaningful ­kitchen-table moments in magazine form. "I call it a chew toy for firefighters," he says.
By 2021, Crackyl Media Inc. had been formed and the first issue of Crackyl Magazine was on the street. "I knew it was going to be a lot of work," laughs Pearn, who is still running the business side of thing as a one-man operation, more or less. "But man, was I wrong. It continues to be a lot of work."
Story Continues Below
But so far, that work is paying ­dividends. In the last two years, Crackyl Magazine has published eight issues, many of them north of 100 pages. It has landed celebrity firefighters on the cover, won silver in the Canadian Online Publishing Awards, built a digital reach north of 300,000 and placed copies of the magazine into firehouses of major fire departments in California, Seattle and elsewhere across Canada and the United States.
Crackyl Media has also been able to build a lot of partnerships in the emerging world of firefighter health and wellness.
"There's an underground movement of health-and-wellness trade shows popping up," explains Pearn, noting that firefighter associations, charities like Movember and the Testicular Cancer Society and individual firefighters have jumped on board.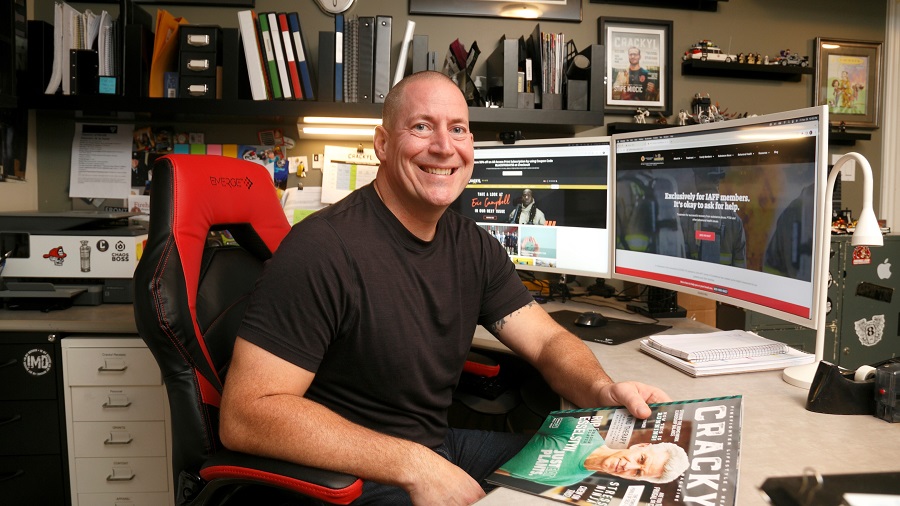 "So far, there's no hesitation, no pushback," Pearn says. "We seem to have put together something that makes sense for our industry."
Part of that, Pearn reasons, is due to launching in the pandemic. On the one hand, workplace mental health was a growing topic of conversation among first responders. On the other, "it made it where a publication could get off the ground before people expected us to be at trade shows," he says.
Story Continues Below
With many of the articles and sources coming from within the ­firefighting community, Pearn says the publication is becoming a for-­firefighters, by-firefighters type of success. "The way that we're doing it is rather unique," he says. "It's ­firefighters doing this. It's one of their own as opposed to some big conglomerate publishing articles."
For now, Pearn says he is enjoying the business journey and not rushing things. He's still an active firefighter with the St. Thomas Fire Department, spending a lot of his off time developing the magazine. But that's not to say he doesn't have big ambitions for his fledgling publication.
"I want our magazine in every ­firehall in North America," he says. "But you can get too big, too quick. It's a marathon. It's not a sprint for me."

Kieran Delamont