Flipping the retail script
Leveraging the traditional store to boost customer value, Os & Oakes unlocks the hidden value of brick-and-mortar retail
Photo: Os & Oakes co-founder and CEO Erika Oakes
FOR SOME BUSINESSES, being able to go online-only has a certain appeal: low overhead, flexibility and none of those pesky rent cheques to cut for the brick-and-­mortar location.
Click here to view this story in magazine format
These days, the 'online experience' is highly prized, an often obsessively engineered attempt to translate all the things that define a brand into digital code. Indeed, during the pandemic, being able to do so effectively often meant the difference between growth and a going-out-of-business sale.
Story Continues Below
But for Os & Oakes, the child-and-adult clothing retailer started by Londoner Erika Oakes and her brother Michael in 2016, the opposite has always had the most appeal.
Their first few children's clothing lines, launched back in 2016 and 2017, had been a success, selling out quickly, and the online-only business was growing — especially as they expanded into adult-sized versions of the simple, locally-made items, which proved a hit.
Oakes decided to take a stab at running an in-­person store. The Os & Oakes location on Adelaide Street, opened in early 2019, let them experiment with in-person retailing and figuring out what their identity would be in the real world, as opposed to the virtual one.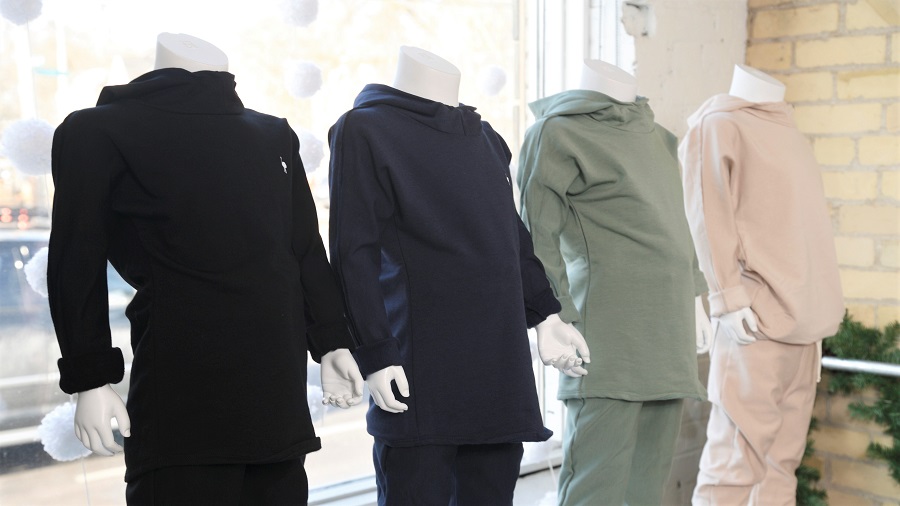 "Something I love about owning a business is the customer interaction and getting to see my customers enjoy the product," Oakes says. "And I feel like that is something you're always able to see when you have a retail store. You can get great feedback, and it gives you a bit of purpose when you have your business.
"I had some small goals in my head — that if I was able to make it work we would keep it going and if not we would go back to online," she continues. "For me, it was just about making the online experience happen indoors. We have that local vibe, that attachment to that community. I try, when I can, to carry local brands in addition to our items — to kind of bring that online experience back into the store."
Now, nearly four years and one global pandemic later, Os and Oakes — a team of "six people, and growing" — is on the move again, into a retail unit in the former Porsche dealership near Oxford and Wonderland roads.
Story Continues Below
"This move is almost a lateral move, it's not an ­expansion," Oakes says. For one thing, there's no massive increase in square footage — it's actually a bit smaller, although it allows them to consolidate their inventory into one location, where previously they needed a second warehouse space to do so.
It also meets their customers closer to where they are: a high-traffic shopping area geared to young families.
"This new opportunity on Oxford Street is in the ­middle of everything," Oakes says. "We want the opportunity to be near families and our customers, and that's where they are."
"For me, it was just about making the online experience happen indoors. We have that local vibe, that attachment to that community" ―Erika Oakes
With a new location comes something of a blank canvas, and when we spoke they were in the closing stages of getting the store polished and ready for its early December opening. "I do think to its a great opportunity for us to make the space ours," Oakes says. "We get to pick all the finishes and make it our own brand."
Asked if she thinks the move will signal a larger shift in the mentality of the company or her own goals, Oakes says she's not trying to change anything about the way the company, a certified B-Corp that has put an emphasis on sourcing inventory and suppliers locally and sustainably, is going to be run.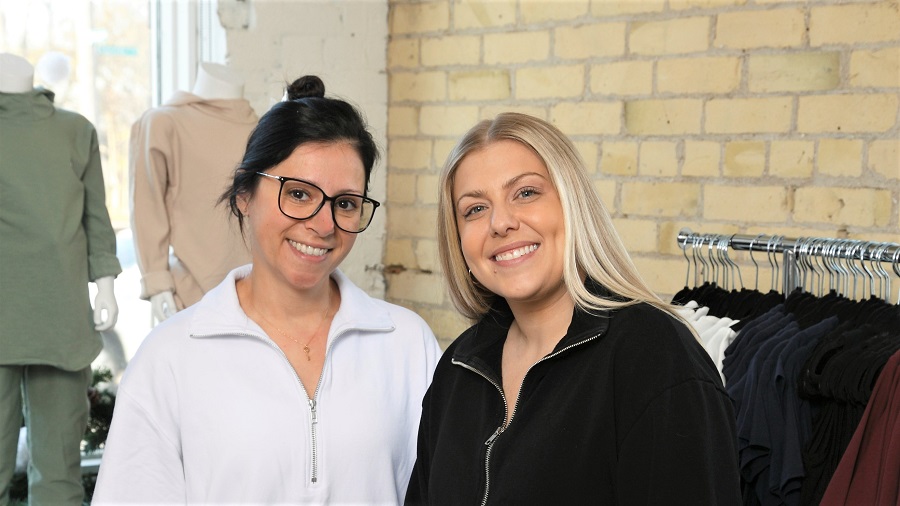 Photo: Jordanna Szalkai and Erika Oakes
"In terms of the business, I think I'm going to run it the same way," she says — why fix what doesn't seem broken. If anything, it's about efficiency. "In terms of our team it will be great move. At this point we have people working at two separate locations at times, so being in one location, altogether, will make us more effective as a team, so I love that."
Really, at the end of the day, you can do as much accounting of the technical pros and cons of a move as you like, but the real truth of it comes through in how excited Oakes sounds about it.
Story Continues Below
Nothing was really normal through 2020 or 2021, she says, but opening a new store in 2022 has a certain fresh start quality. And that's exciting to her.
"I'm always present in the store," she says. "Maybe I should be working on more partnerships and things like that, but I just love experiencing and helping our customers. We're excited to make a move in this climate — it'll be a nice start, over in the other end of the city."

Kieran Delamont