Two lives are better than one
Delivering decreased cost and environmental impacts, a husband-and-wife ­business gives rechargeable batteries a second life
Photo: Sergei Chulkov and Irina Chulkova of CHANS Battery Rebuild
THEY SAY NECESSITY is the mother of invention.
It was necessity that drove Sergei Chulkov to learn how to rebuild a ­laptop battery. He was successful, and his self-taught skills eventually led to the establishment of CHANS Battery Rebuild, a ­business that specializes in refurbishing rechargeable batteries for all kinds of devices — ebikes, power tools, ­laptops, vacuums, etc. — and has a ­client base that spans Canada.
Click here to view this story in magazine format
In 2003, Chulkov and his wife, Irina Chulkova, were living in St. Petersburg, Russia. Their daughter needed surgery, and Chulkova needed a laptop to work on while she stayed with their daughter in the hospital.
Story Continues Below
"We bought a cheap laptop with a weak battery, and then we couldn't find a replacement battery," she recalls. So Chulkov rebuilt it, replacing cells while reusing the existing plastic casing. "We sold that laptop, bought another and rebuilt its battery, and soon people were asking if we could rebuild their batteries, not just for laptops but for power tools and other household goods."
"As far as we know, we are the only company in Canada that specializes in battery rebuilding" —Irina Chulkova
The couple launched CHANS in Russia in 2004. Chulkov continued to experiment and add to the repertoire of items he worked on, establishing a reputation of being the guy who could fix anything. The family immigrated to Canada in 2014, and established CHANS Battery Rebuild here in London the following year.
"As far as we know, we are the only ­company in Canada that specializes in battery rebuilding," says Chulkova.
Laptops only represent about five per cent of the business now; the majority of work is for ebikes, medical equipment and other specialized batteries. CHANS clients are roughly half commercial businesses and half individual consumers, many choosing to rebuild rather than replace because of their concern for the environment. "As much as possible, we reuse the plastic casings and electronics," says Chulkova.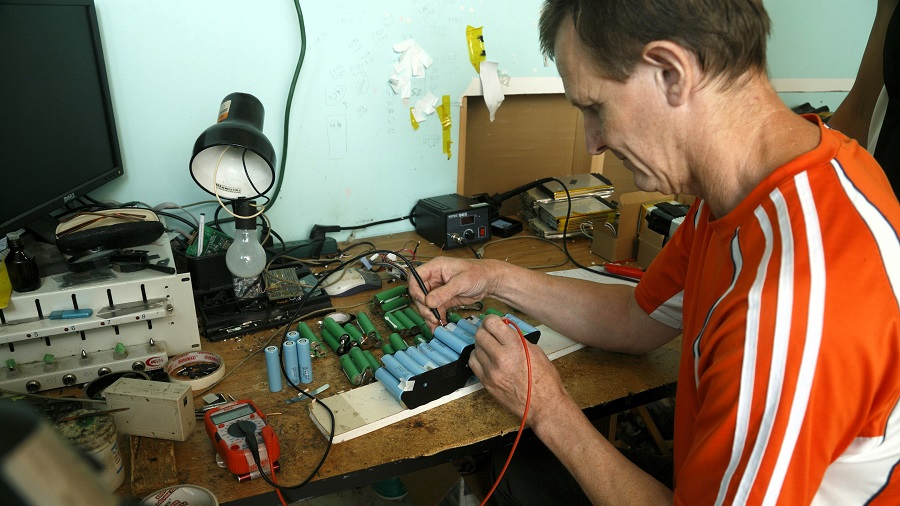 CHANS is capable of rebuilding most rechargeable nickel-cadmium, nickel-metal hydride and lithium-ion batteries and battery packs on the market. And because every cell is replaced in a rebuilt battery, it will often outperform and outlast new replacement batteries.
Recently, the business has been fielding a growing number of inquiries about rebuilding batteries in electric vehicles, a market Chulkov is researching and preparing to tackle.
Story Continues Below
CHANS is currently a home-based operation, with Chulkov as the technician and Chulkova doing just about everything else. Over time, the couple says products have crept out of the basement and into the family's living space. And while turnaround time is fairly quick — ­usually a couple of days — the volume of work means the workshop is basically taking over the house.
"We are at the point where we need to think about moving CHANS to a larger space," says Chulkova, "and possibly hiring employees to help."

Kym Wolfe