From pandemic pop-up to viral sensation, fried chicken shop BTRMLK spreads its wings and takes flight
Photo: BTRMLK co-founders Monia Elhayek and Shad Haidar
IT WAS A simple Instagram post, one of billions pinging from phone to phone, noted by few and ignored by most. It had a spelling mistake and a business name that would be dropped very soon after. Despite all that, it accomplished exactly what its sender, Monia Elhayek, had hoped it would: Starting that day, her newlywed husband treated their hobby as a business, a shift in attitude needed to create what they have today, a bustling chicken take-out joint that's so popular it's about to open a second location.
Click here to view this article in magazine format
"She pushed me," Shad Haidar says with a smile. "We had to get serious at that point because so many people were responding to the posts and wanted our chicken."
Story Continues Below
That was in April 2020, at the beginning of Covid lockdown, when driving to someone's house to pick up some fried chicken sandwiches was the ­highlight of the week. And when the food turned out to be the tastiest take on fried chicken people had ever enjoyed, they came back — and told their friends.
"We started with 30 to 50 people, just family and friends, cooking in my parents' garage," Shad recalls. "It snowballed from there. The last pop-up we did, we had more than 300 orders. We sold out of chicken."
It wasn't like the couple was just sitting around during the first year of the pandemic and had nothing else to do. They also got married that year, juggling jobs as well, while dreaming of starting their own business.
"I had been thinking about starting my own business for a few years, since my mid-20s," Shad, 30, says. "I wasn't sure what it would be, but I had ideas in the back of my head. We had started before the pandemic. But then, people were doing all sorts of creative things during Covid. We knew this was what we wanted to do."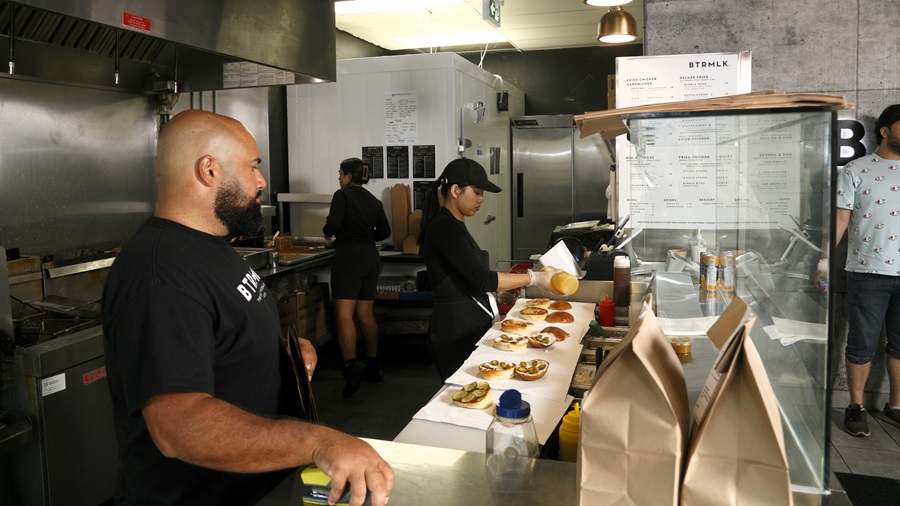 Monia, 26, was working full-time at a TD Bank branch but loved the idea of running their own business. So, when her husband started experimenting with buttermilk-coated fried chicken sandwiches, she got the word out on social media. "We're both passionate about food, and we knew pretty quickly what direction we wanted to take," she says.
It's one thing for family and friends to love your pop-up creations; it's quite another when you ask a random sample of diners for their opinions. Before they could seriously consider moving from the garage to a commercial kitchen, they needed to hear from the public. And that's when the couple turned to their university friends, Zaid Farid and Asaad Naeeli.
The long-time friends opened Dos Tacos on Richmond Street in the summer of 2017, after a trip to California where they discovered a taco culture they knew nothing about. "We were visiting Asaad's brother, and we tried a bunch of the taco trucks and restaurants. London didn't have anything like it, so we started the restaurant together," Zaid says.
Shad and Zaid had been friends since high school. All four were friends while attending Western and King's College. Having opened their restaurant by offering a new and unique take on tacos, the Dos Tacos guys were excited by what their friends were doing with chicken.
Story Continues Below
"Just like us, they had an idea that no one was really doing in London. Their chicken sandwiches were above and beyond anything else."
So, very early in their chicken adventure — before Monia employed her social media bullhorn, when they had served only friends and family — they took a deep breath and tested what they were doing. For one day early in January 2020, they set up shop at Dos Tacos, offering chicken sandwiches to diners who had arrived looking for tacos.
"We were testing everything, our food, our presentation, whether we could do it in a proper kitchen, all of that," Shad recalls. They also asked diners to fill in a survey. In addition to giving the couple confidence they could open their own place, the feedback suggested one significant change: ditch the dark meat in favour of white meat.
They made the change to white meat for their very next pop-up, the event Monia advertised with her pivotal Instagram post. The hashtag, which served as the business name, was #buttermilkfried.
They did their last pop-up a week before Halloween that year and opened the restaurant in February 2021. By then, the business had its current name: BTRMLK.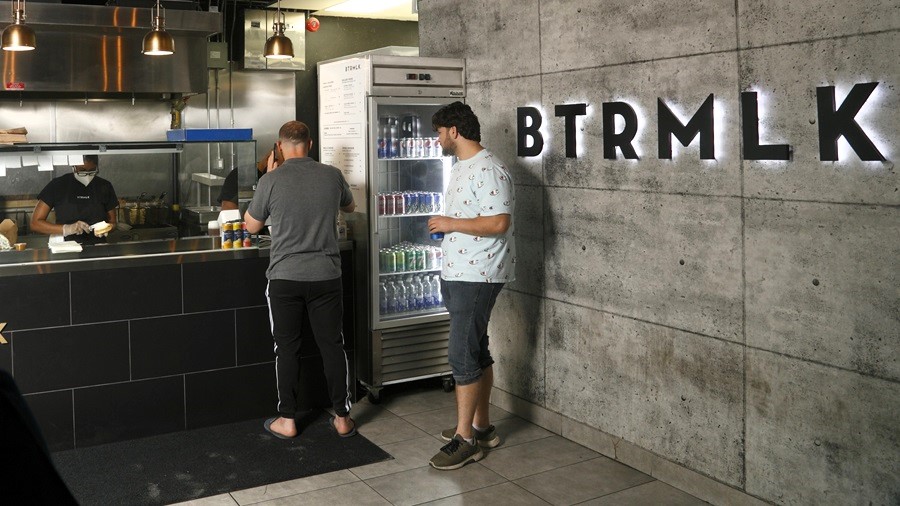 "Buttermilk was just too long a word," Shad laughs. "Especially when we started printing it on uniforms and menus and doing the store design. It's cheaper to print fewer letters, so we started using BTRMLK."
Shortening the name was the least of their challenges as they transitioned from garage band to headliner. To begin, they needed a location. A year into the pandemic, there were plenty of spots available. Hedging their bet slightly, they decided to offer take-out only: no seating.
"People weren't eating at restaurants anyway," Monia recalls. "So, we didn't do seating."
Tucked into the back corner of a busy strip mall, they found their spot – a former cupcake shop at Wharncliffe and Oxford. (Who knew they would outlast the neighbouring Starbucks, which closed this past summer?)
The next task was hiring. They'd never done that. From 20 initial interviews, they hired seven. Few of them lasted very long. "We kept hiring and eventually got the 20 people we needed," Monia says. "During that first year, we lived at the restaurant. It was our only focus."
Story Continues Below
They had a quaint notion they would create a training manual to help new employees get up to speed. "Ha! We still haven't done that one," Shad says.
If you're running a take-out restaurant during a pandemic when everyone from grandparents to tweens is using Uber Eats and DoorDash, you'd better set up an online ordering system, right? Of course.
"Yeah, we did that," Shad says. "It worked great, but we couldn't handle the volume of orders. We had actual lineups out the door from the first day. The online orders were pouring in, and we couldn't keep up." They mothballed the online system for more than six months until they got a handle on being busy at all hours.
They only started offering delivery, beginning with SkipTheDishes, last summer.
The menu expanded from the garage days, but not beyond what Ivey geeks would call their core competencies. "Our idea was to offer big, artisan fried chicken sandwiches," Shad says. "Large ­portions, esthetically appealing, with a few sides that complement the chicken."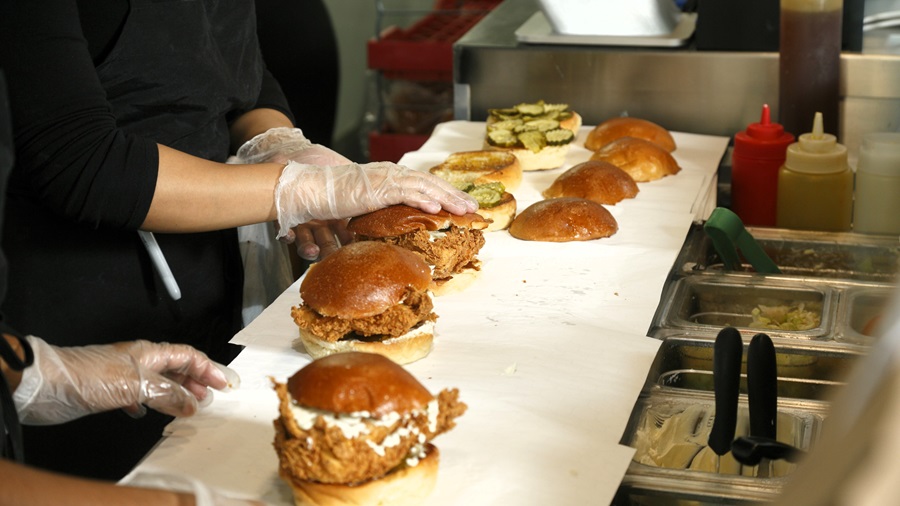 There are three basic sandwiches, with options to turn up the spice. With respect, one might make a superficial comparison to Chick-fil-A, although no one would mistake one for the other after one bite. The chicken is also available as strips or nuggets. There are fries, topped one of three ways, along with poutine. Besides coleslaw, the only other side is the lineup of mac and cheese that also comes three ways with various spice levels.
That's it, aside from canned drinks and a single dessert — banana pudding.
The operating hours, like the menu, are minimalist. Noon to 8 p.m., every day except Monday.
After their initial success — proof of concept you might say — the couple made two big decisions. To start, they went to Montreal on holiday. "Nothing bad happened," Monia says with a wry smile. "Besides, we can operate so much of the business remotely. And we have great staff. It all went smoothly."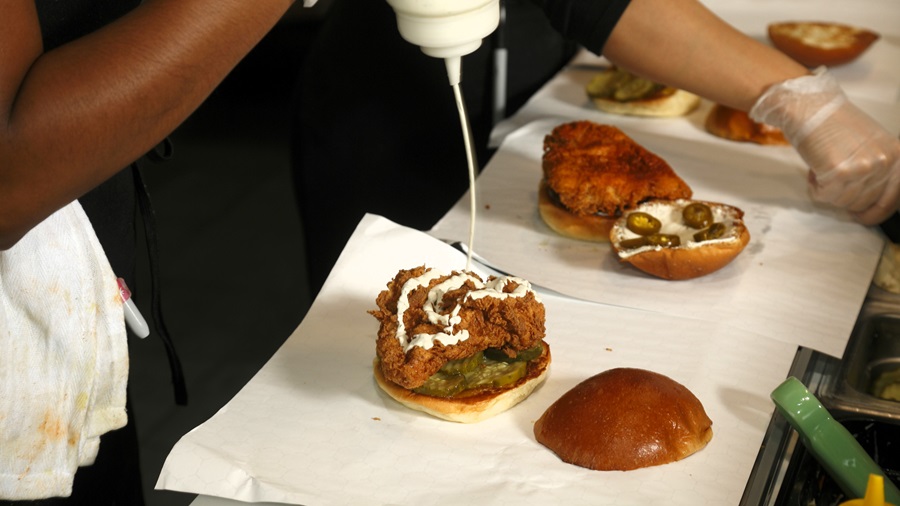 The second decision will come to fruition early next year, when they open a second location in Sifton's West 5 development. Designed to their specifications, it will mirror the open kitchen concept of the original location but offer seating for up to 25. Opening day is pencilled in for February 1, three years, almost to the day, after they opened the original location.
"We're ready to expand. We don't have to be around all the time now," Shad says. "We've got great people who understand the importance of customer service and everything that's worked for us."
In a sense, the couple is in a situation similar to three years ago, needing to trust the popularity of what they're doing so they can expand. The good news this time is they have a lot more evidence to predict success. There's no need for Monia to nudge her husband with a timely Instagram post. And after a year or so, they might even be able to take another vacation.

Christopher Clark