10 Minutes With: Rachel Peake
Stepping into a new job as the Grand Theatre's ­artistic director, Rachel Peake chats about transitioning from actor to director, getting to know a new city and ­embracing change while preserving tradition
RACHEL PEAKE IS the Grand Theatre's new artistic director. Born in Saskatchewan, she studied drama at the University of Alberta and has worked in theatre across the country for 18 years. Most recently, she was associate artistic director at Arts Club Theatre Company in Vancouver.
Click here to view this interview in magazine format
In high school, she jumped at any chance to participate in community theatre. As best she can remember, the first production she participated in was The Black Bonspiel of Wullie MacCrimmon, by W.O. Mitchell.
She and husband Dan Paterson have a daughter, Anwen, who is five. They also have a Bernedoodle, named after Dolly Parton. Husband, daughter and dog will join Peake in London in December.
When not working, she enjoys being outside with her family, walking, hiking or cycling. She also seeks out plays and other performances, along with great restaurants.
Story Continues Below
Congratulations on joining the Grand. You've lived and worked for much of your life in Western Canada. What did you know about the Grand, and when did you become aware it might be interested in hiring you?
Thank you! The Grand is widely known to theatre-makers, but I first visited the theatre when I was interning at the Stratford Festival and came to meet then artistic director Susan Ferley to get a tour and to pitch myself as a director. When it was announced that Dennis [Garnhum] was stepping down, a number of people reached out to encourage me to apply for the job of artistic director. It felt like things lined up for it to be the right fit at the right time.
What factors did you consider before taking the job?
I wanted to be sure that I was the right person and that it was the right job. I did my research — by that I mean both data-based research and talking to people directly. I looked into the city to get a feel for what it would be like for my family to live here, and I researched the company to get to know what it was like in terms of artistic output and financial stability, but also what it was like to engage with on a personal level.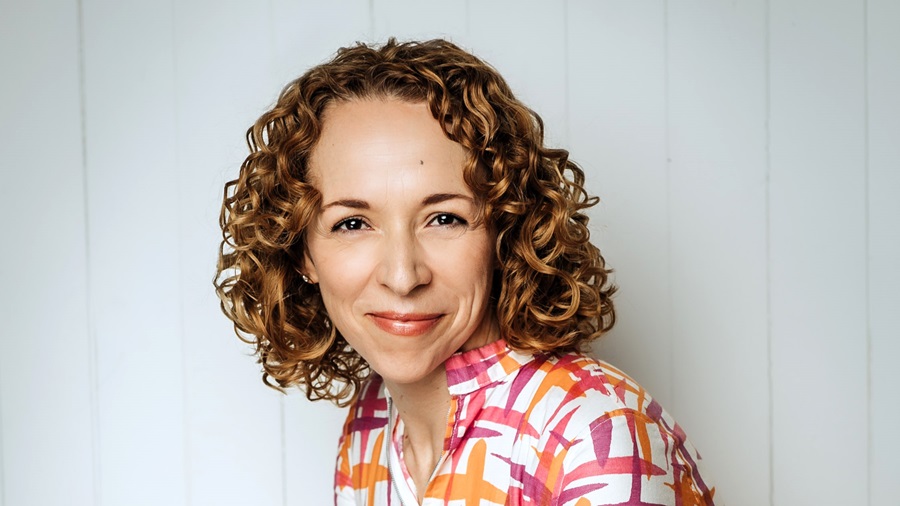 While working in the West, did you cross paths or work with Grand executive director Evan Klassen?
I first connected with Evan when he was at Western Canada Theatre in Kamloops and I was at the Arts Club Theatre Company in Vancouver. WCT was presenting the Arts Club's production of Kim's Convenience and we negotiated the terms together. How fitting that the first show in my first season at the Grand is Kim's Convenience – and this time it is starring its writer, Ins Choi!
Presumably, your first theatre experiences were performing. Did you make a conscious choice to focus on directing and producing? Can you imagine taking a performing role in the right circumstances?
Yes, I absolutely started as a performer. I thought you had to be at least 40 years old to be a director! So, my plan was to act for a while and then transition to directing later. However, thanks to some amazing mentors, I found my path to directing much earlier than I had expected. Once I found directing, I completely transitioned and stopped acting entirely — I sometimes wonder if I might return to acting in my retirement but I think it is probably unlikely.
Story Continues Below
How will you strike a balance between introducing new ideas and approaches and maintaining Grand traditions and relationships built over decades?
I am extremely fortunate to be following some incredible leaders at the Grand. I think I naturally bring a good balance of respecting tradition and the lessons learned in the past, while having the vision, passion and drive to leap forward. The world is not the same as it was, and audiences are not the same as they were. The company will naturally require some new ideas for these new times. My goal will be to make changes in conversation with the amazing supporters who have stood with the Grand for so many years so that we are forging forward together.
What process will you follow when planning the 2024/25 season? Have you mapped out an entire theatre season before?
Luckily both in my time at the Arts Club in Vancouver and at the Citadel Theatre in Edmonton I was part of the team putting the seasons together. Through those experiences, I have seen the process under two quite different models and can draw from the strengths of each. There is also an incredible artistic team at the Grand who have done this together many times before, so they will be a huge asset to me.

Interview by Christopher Clark