Success with Zomaron: Globally Local
A trailblazer in the delivery of fast and fabulous vegan food, Globally Local
is changing the way people think about fast food
Photo: James McInnes, Owner, Globally Local
WE HAVE TWO vegan restaurant locations, a food truck, and a production facility on Consortium Court. Our first on Dundas Street, which was Canada's first Canada's first all-vegan fast food restaurant, opened in 2016, and then last year we opened the world's first 24-hour vegan fast-food drive-thru restaurant on Highbury Avenue.
WHEN WE FIRST opened on Dundas Street, we were using the Square Reader, which could only proess credit cards. That's when we received a visit from a Zomaron representative who explained the benefits of switching over to a system that made it easy to pay with both credit and debit cards. At the time, our decision to switch over was primarily driven by giving our customers the added benefit of debit payments, but Zomaron was also able to offer much better rates than we were paying for the Square Reader.
WHEN WE OPENED the Highbury Avenue location, we wanted to make sure we made the ordering process as efficient as possible. Zomaron introduced us to the talech POS system, and it's been the perfect solution. It's an affordable, turnkey system that transforms a tablet into not just a cash register, but a powerful business-management solution as well.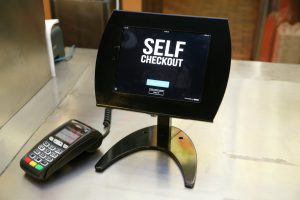 ONE OF THE really beneficial features of the talech system is its self-serve ordering capabilities. It allows customers to place and pay for their own orders, which in turn speeds up the checkout process and helps with labour costs. It was easy to set up and has been a great feature to offer our customers. .
THE SERVICE WE'VE received from Zomaron has been outstanding. On more than a few occasions they've really saved the day for us. For example, we were working a festival in Victoria Park using portable debit machines and our charging station stopped working. Zomaron had a new unit at the park within an hour—and this was on a weekend.
ZOMARON HAS ALSO been great from a communications perspective. If there is anything going on with the networks, whether it's a local outage or something going on nationally, they are really good at communicating all of this to the customer. And any time there has been an issue, they've always been one easy phone call away to address the issue.
---

Today's diners not only expect exceptional food when dining out, but also a fast, simple payment process that makes it easy to pay with debit and credit cards. Check out how Zomaron can save you money and streamline your operations with processing solutions designed for the food and beverage industry. Serving thousands of satisfied clients, Zomaron's dynamic team is ready to help: www.zomaron.com | 1-888-900-9192