Two local firms named to best workplaces list
Northern Commerce and JMP Solutions have been named to the 2020 list of Best Workplaces in Ontario
TWO GROWING LONDON-BASED firms, Northern Commerce and JMP Solutions, can now call themselves two of Ontario's best places to work as well.
The two companies have been included on the Great Place to Work 2020 list of Best Workplaces in Ontario. The list is compiled annually by the Great Place to Work Institute Canada, a research and management consultancy firm founded in the U.S. with International affiliate offices throughout the world. The Institute works with global publications to select Lists of Best Workplaces​ that appear in 49 different countries.
To be eligible for this list, organizations must have been Great Place to Work Certified in the past year, be headquartered in Ontario and have employees that participated in a Trust Index employee survey. Great Place to Work determined the best based on the overall Trust Index score from these employees.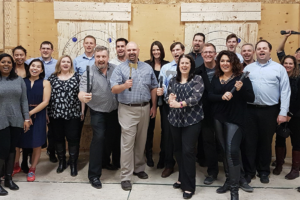 Photo: JMP Solutions staff at a corporate outing
JMP Solutions is an industrial technology partner to Fortune 1000 manufacturers and producers, providing engineering services and turnkey solutions in seven core areas: process automation, control system integration, information systems, automation and robotics, automated guided vehicles, material handling, and networking and security applications. With 15 business units in the U.S. and Canada, JMP has delivered more than 20,000 solutions to over 1,000 clients over the course of its 30-year history.
Northern Commerce is a full-service digital agency that specializes in building high performing online retail experiences. Using a data-driven approach, Northern Commerce creates immersive marketing campaigns that guide consumers through their digital purchase journey. Northern Commerce's implementations have processed billions in revenue and are used by hundreds of thousands of people every day through retailers, wholesalers and service providers.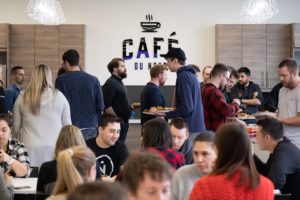 Photo: Northern Commerce staff enjoying an on-site corporate luncheon 
Aside from creating award-winning digital experiences for some of North America's leading retailers, Northern Commerce president, Michael Delorenzi, says the company dedicates itself to creating a rewarding employee experience. "I firmly believe that great work begins with extraordinary company culture," he says. "By showing our team that they are valued for who they are and appreciated for their talents, we have been able to achieve remarkable results."
Last week, Northern Commerce announced a partnership with London-based Digital Echidna. In order to better address the growing demand for digital platform commerce, the two firms plan to pursue enterprise-level clients through a more comprehensive set of solution capabilities.