A new fund looks to support London-Middlesex restaurants and bars through uncertain times
IN AN EFFORT to support the local restaurant industry impacted by Covid-19, Club House for Chefs and McCormick Canada has teamed up with five organizations to create the London-Middlesex Restaurant Support Fund.
Partnering with Pillar Nonprofit Network, the Middlesex London Food Policy Council, rTraction and the Western Fair District, the fund offers up to $1,000 in grants to qualifying London-Middlesex-based independent operators of restaurants and bars in need of financial assistance as they adapt their businesses through the pandemic crisis.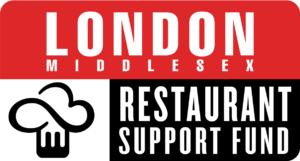 Club House for Chefs and McCormick Canada started the fund with a $30,000 contribution. All of the funds will go directly to operators in need, and businesses and individuals are encouraged to contribute to help as many operators as possible on the road to recovery.
"We know there's a long road ahead, but we hope this fund can help alleviate some of that burden" ―Anna Stolee
Applications open on August 13 and will be fulfilled on a rolling basis until the funds are exhausted. To qualify for grant assistance, independent restaurant and bar operators in the greater London area must fill out the online application and follow the instructions.
"We're proud to have been a part of this community for more than 137 years and we know restaurants are an integral part of the fabric of our community," said Anna Stolee, senior director of sales and marketing at Club House for Chefs. "Amidst the pandemic, restaurateurs are struggling, and we've been trying to help them get back on their feet with solutions geared for takeout. Even as restaurants are reopening, it's not a return to normal business as they face increased costs to maintain safe operations on already slim margins. We know there's a long road ahead, but we hope this fund can help alleviate some of that burden."
Story Continues Below

Michelle Baldwin, Executive Director of Pillar Nonprofit Network, added, "One of Pillar's core priorities is sparking collaboration between nonprofits, businesses and government to solve problems and help build a vibrant community. We know how much independent restaurant operators will appreciate this support, and we're glad we could help nonprofits team up with local businesses to make it happen."
Contributions are being accepted now. Libro Credit Union was the first company to offer support, pledging $2,000. Companies and individuals who wish to participate can visit www.lmrsf.ca for more information.