ZucoraHome moves to permanent work-from-home model
Citing operational and workforce advantages, ZucoraHome embraces work-from-home solutions and moves to become a permanent virtual enterprise
ZUCORAHOME, CANADA'S LEADING home services provider for the home furnishings industry, has transitioned to a permanent virtual enterprise model for running its business.
"Our goal is to enable our employees to continue to work from home while retaining flexible meeting spaces and hot desks at our office facilities," said Brad Geddes, ZucoraHome president and CEO.
According to Geddes, the quarantine period of the pandemic combined with physical distancing measures has proved that working independently outside of the office provides advantages for the company.
In addition, surveys of employees confirmed a strong desire for increased flexibility and more personalized solutions when it comes to deciding where to work. 
"It may sound strange, but we've actually learned how to benefit from this pandemic," added Geddes."We're not eliminating our brick-and-mortar facilities. We're maintaining a physical presence so our employees can continue to connect with one another. Some things still need to be done on a face-to-face basis." 
"We also have an unrestrained opportunity to grow and scale our business by attracting the best possible candidates no matter where they live" ―Brad Geddes
The company's manufacturing and distribution facility on Clarke Road continues to operates full-time with onsite personnel. Most of the offices in the facility have become meeting rooms and conference spaces for teams that require occasional face-to-face gatherings, while a new creative and video production studio is being built to support the company's social marketing and training activities.
The majority of the company's 60 employees provide customer care services for approximately 2 million plan holders on behalf of hundreds of market partners. Geddes said cloud-based technology infrastructure and communicaitons technology are supporting the new working model.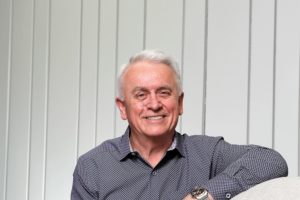 ZucoraHome president and CEO, Brad Geddes
"Transitioning to this forward-looking model also strengthens our corporate culture," said Geddes. "We have always trusted Zucorians and now we've empowered them to shape their work so that they can achieve the best possible results. We also have an unrestrained opportunity to grow and scale our business by attracting the best possible candidates no matter where they live."
According to Michelle Mahovlich, senior director, operations, transitioning to a virtual enterprise provides a better way to work. "For those of us with families and young children, this flexibility provides a great way to continue to collaborate with our colleagues while still ensuring we can meet the needs of our customers."