Source locally, hire globally
Immploy steps up in difficult times to meet the demands of area employers by connecting them to a world of talent
EVEN IN THESE challenging times, international talent and immigrant skills organization Immploy remains committed to connecting top newcomer talent to area employers and individuals who, despite the circumstances, are opening their hearts to help transform the lives the others.
While Immploy cannot meet with employers in person due to pandemic restrictions, they are still here to help and are pleased to serve employers remotely through phone, email and web-based services.
Immploy connects employers in Southwestern Ontario with immigrant talent to foster economic prosperity. It does this through the delivery of a free recruitment service called Job Match and Mentorship Programs.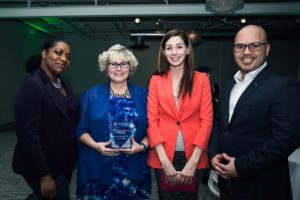 Earlier this year, Immploy awarded several mentors and organizations for their outstanding leadership and support. Sherry Parker (second from left), IBP demand manager at 3M and chair of the Canadian Manufacturers and Exporters – Southwestern Ontario Branch (CME-SWOB), received the Inspiring Leadership Award. Celebrating the achievement with her are (L-R) Patricia Natasha Ellis-Hanson, former mentee, Candace Campbell, business development manager, Nuts For Cheese and vice-chair, CME-SWOB, and Eduardo Matheus, former mentee
Do you have a job vacancy?
Job Match provides employers with coordinated access to qualified Canadian newcomer talent. Share your hiring needs with us and widen your search to include qualified Canadian newcomer talent. You share the posting, and we match the candidates. Just leave the sourcing, screening, and short-listing to us.
The Mentorship Programs
The Mentorship Programs bring together Canadian newcomer talent and volunteer mentors in their field. The programs strengthen leadership, coaching and cross-cultural skills of company employees who volunteer their time and knowledge as a mentor to a skilled Canadian newcomer. 
Immploy's Clients
Today's shortage of skilled workers will only get worse.  The good news is that untapped talent is already here. Most Canadian immigrants have professional training, making them an asset to companies and their communities, bridging the gap between the labour market demand and the limited supply. Consider what Immploy offers:
600+ clients registered with Immploy

Professionals with Post Graduate, Bachelors, Masters and PhD degrees

Expertise and work background includes and is not limited to: Human Resources, Sales and Marketing, Finance and Accounting, Business Management, Information Technology, Banking, Business Administration, Manufacturing and Logistics, Public Administration, Engineering, Healthcare, Supply Chain, Sciences, Law, and others.

English – Reading, Writing, and Listening – All clients possess a minimum score of 7 out of 8 on the Canadian Language Benchmark Assessment.
Reach out and connect today!

When employers are able to access the qualified talent needed at the right time, companies thrive and everyone benefits. For more information or to engage with Immploy's outstanding job services and candidates, visit them online, email [email protected] or call 226-884-9167. Be sure to ask about the free Job Match (recruitment) and Mentorship Programs!
---
This story was created by Content Studio, TreeTown Media's commercial content division, on behalf of Immploy.