Lots has changed for Prime Management Group over the past 30 years. Its focus on people and ­relationships hasn't
Photo: Kimberley Chesney
WHEN KIMBERLEY CHESNEY launched her executive search and recruitment business 30 years ago, she was very intentional about Prime Management Group's branding and positioning in the market.
"From the get-go, we were clear – this is not a staffing agency, it's a professional firm," she says. "We've always had mission and values statements; we've always been clear about what we do and how we do it. It's all about relationships and doing the right things with high integrity."
Chesney started with one employee, Jay McKillop, who still works with PMG.
"As the sole owner, I have continuance plans in place, but it won't happen any time soon" ―Kimberley Chesney
"We were two women in our early-30s working mainly with manufacturing and auto parts companies, recruiting ­engineers, controllers and other upper-level positions," recalls Chesney. "At the time, management was typically male, and most utilized the services of Toronto search firms. It was fairly unique to have women doing executive search in London."
Their goal, which remains the same today, was finding ­candidates with more than just the required skills, ­knowledge and experience. "Some people refer to us as headhunters, but it's more heart and head," she says. "It's easy to find good ­people; it's more difficult to ensure that the fit is there for both the client and candidate."
Fast forward 30 years, the privately held company has offices in London and in Kitchener, seven staff and is part of a global network of boutique search firms, NPAworldwide. As well as enabling PMG to expand its reach, working with a ­network of partners around the world means the firm was using Skype, Zoom, Microsoft Teams and other virtual ­platforms long before Covid-19 made that a necessity.
Story Continues Below

"We've been a member of NPA since 1994, so we were well positioned to move everything online seamlessly. We were able to be completely nimble. Our clients completed several successful hires in the early months after Covid hit," says Chesney.
During the pandemic, notes Chesney, recruitment has ramped up in some unexpected sectors. Take Listowel-based Spinrite, for example, North America's largest marketer of craft yarn. "E-commerce has gone through the roof, and we are currently recruiting for three key positions in Listowel, Toronto and North Carolina."
Another example is a PMG client that manufactures ­composite telephone poles. "Telecommunications has never been so busy," says Chesney.
Search and recruitment remains PMG's core business, but the firm also offers HR consulting and career placement to a broad range of clients in the public, education, not-for-profit and business sectors across North America. There is still manufacturing, of course, but PMG has been quick to adapt to the needs of emerging sectors, including IT and green energy.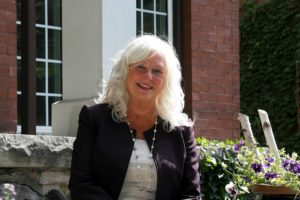 "We've followed the technology sector as it has grown and changed. For example, there is a focus now on cybersecurity," says Chesney. "When Canadian Solar first opened up in Canada, the owners utilized our service extensively to build their team. Samsung energy also continues to utilize our recruitment expertise for very niche positions."
As she reaches an age where people might traditionally be thinking of retirement, Chesney has no plans to step away any time soon. Not that she envisions running PMG for another 30 years, but she has no doubt the company will still be operating and flourishing.
"I'm in an enviable position, working with a fantastic team of people and with clients I love," she says. "As the sole owner, I have continuance plans in place, but it won't happen any time soon."

Kym Wolfe
To view this story in Virtual Paper format, click here.