The 2020 Forest City Film Festival brings virtual screenings to your living room
Photo: Dorothy Down, executive director, Forest City Film Festival
GRAB SOME POPCORN, get cozy on the couch and get ready for the fifth annual Forest City Film Festival.
With the coronavirus pandemic necessitating the move to a virtual format, FCFF organizers have come together to curate a list of more than 75 films that audiences can watch without having to set foot out the door.
Looking for the silver lining, executive director Dorothy Downs says this year's program has the potential to attract film lovers across the country — or even across the globe — with its flexible format. "I'm encouraged to know we aren't limited by geography," she says.
That extended reach applies not just to viewers, but also to the experts who will be engaging remotely to lead industry workshops and participate in panel sessions.
"We are working to build capacity and enable independent filmmakers and content creators to work from their homes across Southwestern Ontario," explains Downs. "To be able to connect with the industry in this way is huge."
"We don't know if this will work, but we were blown away by the submissions and very thankful that our sponsors have been so supportive. If people value having a local film festival, we really need them to show their support" ―Dorothy Downs
This year's festival will run from October 17 to 25, with live screening of programs available daily. In addition to the films, there will be 30 programs, including interactive question-and-answer sessions, conversations with notable industry personalities and a youth film festival.
"People will have the option to purchase tickets as films become available," says Downs, "and can view them anytime up to November 1."
Story Continues Below

That gives people in different time zones the ability to stream them at a time that works for them, and they can have the whole family or people in their bubbles watch with them, all for the price of one $10 ticket. "Once they download, they will have 24 hours to watch a film," Downs adds.
For $125, viewers have access to all — feature films, documentaries, shorts, animations, music videos (a new category this year), foreign language films and Q&A sessions with industry professionals and content creators that follow each screening.
Ensuring that the youth film festival competition would also go forward this year was a bit of a challenge, notes Downs. In the past, students working on submissions would receive one-on-one guidance from their teachers. When it became apparent that high-school students would not be returning to classrooms, FCFF created a series of online how-to seminars to support participants. 'Filmmaker 101' began streaming in April (sessions are available to view on YouTube), and topics include everything from basic elements of a film or documentary to camera angles, sound and lighting and pitching a screenplay.
Based on the success of that experience, FCFF now has partnerships with both London school boards to create more online seminars this year and has also had inquiries from school boards as far away as Timmins. The new format means that even very remote areas can tap into expertise that they might not have access to in person.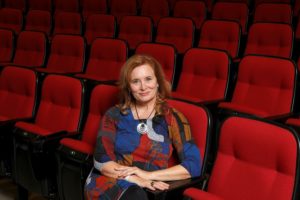 The city's annual celebration of motion pictures has drawn thousands of film fans to venues like the Wolf Performance Hall since it launched in 2016. FCFF focuses on films that have a connection to Southwestern Ontario, including dramas, comedies, action films, thrillers and documentaries that tell "very personal and fascinating stories," says Downs . This year there are also four French films and one international film (all subtitled in English).
"For our international screening, we connect it to a population in our area," says Downs. "This year it is a film from Columbia."
For Downs, the decision to go ahead with the festival knowing that many small film festivals had been cancelled and even the renowned Toronto International Film Festival had scaled down significantly, was a leap of faith.
"We don't know if this will work, but we were blown away by the submissions and very thankful that our sponsors have been so supportive. They did not pull the plug, even though it's been a very difficult year," says Downs.
"We will be publicly announcing the films on September 17, and we expect some people will purchase tickets right away, but most people tend to buy their tickets in the last week. If people value having a local film festival, we really need them to show their support."

Kym Wolfe
To view this story in Virtual Paper format, click here.