Opening a door (and window) to opportunity
A new Fanshawe College training program takes direct aim at a skilled labour shortage
Photo, from left: Heather Carey (Fashawe College CTS), James Baker and Shannon Ruffell (Heritage Renovations) and Sheldon Dyck (North Star Windows & Doors)
THE EFFECTS OF millions of Canadians ­working much more from home is rippling through the economy, boosting some sectors and crippling others.
Among the winners is the home renovation sector. Confined to home, people are tackling renovation projects large and small. Beyond the anecdotal evidence all around, an RBC analysis shows spending in Canada on DIY construction supplies, furniture and appliances is up about 20 per cent from last year.
That's great news for the window and door industry, except for one little problem: there's a shortage of certified installers. That was true pre-pandemic, and it's even more pronounced now.
A new program from Corporate Training Solutions (CTS) at Fanshawe College will target that problem, beginning October 1. That's when 25 students will begin the Window and Door Installer Certification Program.
"It was the first virtual focus group CTS has held, and we got amazing feedback" ―Christine Spicer
By February, they will have 150 hours of ­training and skills development under their belts, certified to begin work as installers.
"Our goal is to get all 25 employed and then scale the program," says Heather Carey, CTS project specialist.
The program is fully funded by the governments of Canada and Ontario and focuses on under-represented groups, including women, Indigenous peoples, newcomers, persons with disabilities, veterans and youth. They will receive 80 hours of hands-on training, as well as 70 hours of career development and employment skills.
In one sense, this is much like any other CTS program, relying on a consortium of employers and industry to identify needs and help design a curriculum. But in another sense, it's a first for CTS, which began pulling things together in April, relying entirely on remote meetings to make things happen.
Story Continues Below

"We had to recreate ways to do our focus groups," says Christine Spicer, program coordinator. "It was the first virtual focus group CTS has held, and we got amazing feedback. The biggest discussion point was the need for the training to be hands-on. We're working hard to make sure we can do that."
The novel approach was something that intrigued many members of the consortium. "We were transparent about sort of pioneering a new approach, and people really came together," says Carey. "I think we actually got a better outcome because people had the time to participate."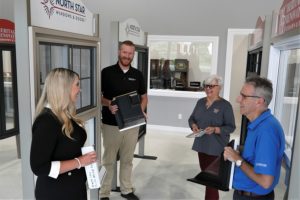 Among the unique teaching features is an educational curriculum mixed with experiential, onsite classrooms and learning at two of the program's industry partner sites — Heritage Renovations and North Star Windows and Doors.
When the program went live last month, the response was immediate. "The demand for the program is there, clearly," says Spicer. "We're likely to get more than 25 applicants, based on early demand. And the industry is also excited by the program."
To get information or apply, contact [email protected] and reference the Window and Door Installer Program.

Christopher Clark
To view this story in Virtual Paper format, click here.