A tech ticket for vaccine scheduling
Mediline aims to deliver a comprehensive booking system for Covid-19 vaccine distribution
LOCAL ENTREPRENEUR PAUL Rivard has been building software solutions company Ticketwindow for over 15 years, and he's certainly no stranger to innovating in the face of doubt. So, when he recognized in the early stages of the pandemic the immense pressure being thrust upon Canada's healthcare sector, he saw a way his software solutions and technology platform might be able to help.  
With decades of experience leveraging sophisticated and user-friendly crowd logistics technology, Ticketwindow delivers order and confidence to the masses attending live events of all varieties. Now, it's ready to pivot this innovative booking software to the front lines of a pandemic.
In a new collaborative venture with international partners, his new firm, Mediline, transfers the organizational challenges faced by high-volume live events directly to assessment centres, medical clinics and hospitals administering Covid-19 tests and, ultimately, vaccines. The common denominators? Lots of people, unpredictable wait times and the need for reliable information.
"Queueing is what we know. This is about keeping the patient lines moving and medical teams confident in their inventory" ―Paul Rivard
Mediline's online queuing system is designed to streamline booking times for Covid-19 testing and eventually scheduling appointments for vaccinations. Members of the public would receive personal logins to the booking system, reserve an individual or family block of time at a centre in their district and undergo a contactless check-in upon arrival.
"Queueing is what we know," says Rivard. "We're professionals at what we do. Mediline can make it easier for everyone — patients and practitioners alike — as we aim to help get business back to normal again. This is about keeping the patient lines moving and medical teams confident in their inventory, for everything from cotton swabs to the vaccine doses."
Providing users a full view of available centres and times would be crucial to instilling confidence in the testing and/or vaccination process, Rivard notes, as well as encouraging compliance with current public health restrictions. "It will reduce public anxiety, frustration and the fear that arises with uncontrolled lineups or unanswered phone calls."
Story Continues Below
"I am impressed by Paul's vision and quick mobilization of a critical offering for the mass distribution of vaccines in 2021," says James Campbell, entrepreneur-in-residence at TechAlliance. "Given Ticketwindow's success in crowd logistics, Mediline's product and expertise behind it is a solution that fits contemporary needs to organize people. This platform could become instrumental in the fight against Covid-19."
Rivard says the existing framework is adaptable, and Mediline's partners in software can adjust the offerings to suit the needs of participating centres. In turn, Canada's healthcare system and frontline workers would benefit by having a seamless delivery method to distribute critical medical services.
"This technology introduced by Mediline targets a need that the public, our healthcare heroes and government have experienced in the recent state of public health," adds Christina Fox, CEO at TechAlliance. "Committed to enabling growth for world-changing ventures, TechAlliance recognizes our role in advocating for innovative solutions with our collective recovery in mind. We're proud to support Mediline as they enter the market."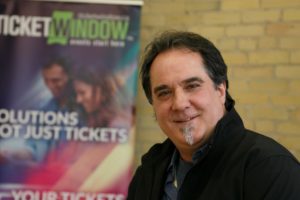 Photo: Paul Rivard
Rivard says Mediline's solution originated in preparation for eventual mass vaccination efforts, but the booking system is also a perfect fit for assessment and testing, as it can handle several clinics and remote locations simultaneously.
"Mediline introduces a straightforward solution to impending challenges that government and health professionals face as they plan for vaccine distribution," says Rachel Ettinger, strategic advisor at TechAlliance. "We need to champion technology adoption like this going into the new year. The ease Mediline can bring for booking appointments for large populations could make a dramatic difference for health professionals and medical clinics everywhere."
Mediline continues to gather feedback from experts for the platform as the coming months will be crucial to shaping their product around industry needs and changing expectations. Planning for mass vaccination delivery methods has started at Mediline ― and Rivard knows the clock is ticking. "We have the resources and the solution. We are ready to move in the right direction."