Arguably one of the city's lesser-known success stories, family-run ITPS Canada is one of the world's top specialty flight schools, setting a global standard for test pilot and aeronautical engineer training
Photo: ITPS Canada president and co-owner, Giorgio Clementi
IN AN IMPOSING 27,000-square-foot hangar near ­London International Airport, and in nearby classrooms and flight simulators, elite pilots from more than 25 countries have trained with the expert faculty of ITPS Canada, one of the world's top specialty flight schools.
Click here to read this story in magazine format
Some students are future fighter pilots, preparing for careers in their respective air forces. Others are future test pilots and flight test engineers, integral to the ­certification process of new aircraft types.
ITPS clients have included the Royal Canadian Air Force, Belgian Defence, the Republic of Korea Air Force and major manufacturers like Airbus and Leonardo.
Story Continues Below
"We've got experts from all over the world," says Giorgio Clementi, president and co-owner of ITPS (an acronym for International Test Pilot School), along with his wife, Beverley.
"It's a real mosaic here — a representation of Canada."
ITPS was founded in the United Kingdom in 1986 by James Giles, a former Royal Air Force test pilot. Clementi joined the company in 1991 and bought it with a partner in 1996.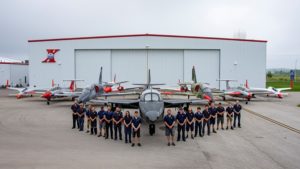 The ITPS Canada hangar on Blair Boulevard (photo: Eric Dumigan)
"The early days were very different," says Clementi. "The industry was far less regulated and generally less barriers to entry. If you could dream it up, plan it, back then there were far fewer obstacles to stop you."
"We call them students, but when they come to us, they're already seasoned professionals. They have been specifically selected as the best their country can offer" ―Giorgio Clementi
ITPS relocated to Canada in 2001, drawn by the freer airspace and lack of in-country competition. Clementi also worked at Diamond Aircraft at the time, as head flight test pilot for the D-Jet prototype aircraft.
"When I started in Canada, it was just me, one ­administrative employee and a telephone," says Clementi. "I called operators at the London airport, and said, 'Hi, I'm starting a flight test school. Do you have aircraft I can lease?' The rest is history."
Today, ITPS has 75 employees and a network of ­contractors that ranges from 30 to 60 people at any given time, depending on business activity. The company also has a fleet of 22 aircraft, including Hawker Hunter T.7 and AERO Vodochody's L-39 jet trainers, as well as several helicopters, ­business jets and smaller general aviation aircraft.
Clementi cites the company's London location as a key reason for its success.
"London has a great airspace and fantastic infrastructure," he says. "We have a great relationship with the airport. Our students all love London. There's something for everyone, and we've discovered a lot of what the city has to offer through our students."
ITPS also has a strong family dynamic, thanks to the involvement of Giorgio and Beverley's three sons, all of whom are Western University graduates. David serves as chief operating officer, while Carlo manages the finances and Vincent works as a flight test engineer.
"It's all about creating that home away from home," says David, who has an MBA from Ivey Business School. "It really allows us to create a great sense of community here at ITPS."
ITPS test pilot graduates guide new aircraft through a series of safety tests before the aircraft is certified and released for sale to the public. The process can take years, and it involves pushing an aircraft to its limits.
Story Continues Below
"We call them students, but when they come to us, they're already seasoned professionals," notes Clementi. "They have been specifically selected as the best their country can offer. Ultimately, they will be the ones to first flight ­something that may be the product of billions of dollars worth of investment."
ITPS Canada is one of only four accredited schools of its kind in the world, and one of only two that are ­privately-owned, says Clementi. Its competitive advantage comes not just from the family dynamic, but also from a commitment to individually tailored training portfolios.
"We don't offer a one-size-fits-all solution," he explains. "We will actually speak with individual customers, find out what their pressing needs are and find ways to adapt our standard offerings to better meet their requirements."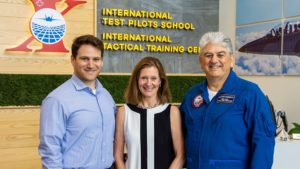 From left: David, Beverley and Giorgio Clementi (photo: Eric Dumigan)
At its core, ITPS Canada is a family concern. Giorgio, Beverley and their sons try to improve what they've built with every new group of students.
"We are all immersed in the business, the people and the community," sums up Clementi. "It is more than just a ­business, you know? It is a family."

Ben Forrest