Southwestern Ontario has its first farmgate retail cannabis store with the opening of Station House Cannabis Co. in St. Thomas
CANADIAN LICENSED CANNABIS producer Sensi Brands Inc. has opened Southwestern Ontario's first farmgate retail cannabis store in St. Thomas.
Located at 150 Burwell Road, the Station House Cannabis Co. will feature Sensi Brand's line-up of products, which are produced at the firm's neighbouring St. Thomas facility. Alongside its regular line-up of branded products, the store will also offer visitors a selection of Ontario-based products from local craft growers and branded merchandise.
The store will also provide a unique educational experience by offering a view into the firm's cultivation practices ― initially through video footage, and eventually through a grow room window into the cultivation facility.
Story Continues Below
"The opening of our farmgate store is a landmark moment in our company's history, and our success in launching highly desirable, relevant cannabis brands and showcasing them in an interactive way to consumers," says Sensi Brands' founder & CEO, Tony Giorgi. "We are very pleased to offer a plant-to-consumer experience in partnership with our eco-system of licensed cultivators, many of which are based in Ontario, and proudly showcasing our market-leading locally grown, processed and packaged cannabis products."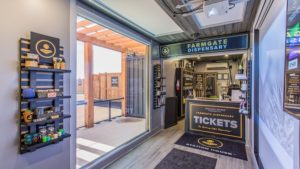 The store is named after Sensi Brands' bestselling brand – Station House – which in itself is a nod to the city of St. Thomas – nicknamed the Railway City. Keeping in line with the theme – the store is outfitted from an upcycled shipping container and designed to look like a freight train car.
According to the firm, since first opening in January 2020, the company has grown from four to more than 70 employees. "We are very proud of our roots in St. Thomas and the opportunity to engage with the local community and provide further employment opportunities as we continue to execute our business plan," says Giorgi.
Story Continues Below
Station House Cannabis Co. is the third licensed farmgate cannabis retail store in the province and the first in Southwestern Ontario. There are more than 1,000 cannabis retail stores across the province.
"The overall growth of Sensi Brands has been impressive to watch, and we are exceptionally pleased to have the new farm-gate store open in the city," adds Sean Dyke, CEO of the St. Thomas Economic Development Corporation. "The focus on shop local has been strong in our community and I have no doubt that this new initiative will prove to be very popular, particularly with the railway-themed Station House brand leading the way."