Growing a bookkeeping and tax services firm seven-women strong, Sarah Queale keeps her focus on authentic business relationships
Photo: Sarah Queale, founder of Synergy Tax & Business Solutions
SARAH QUEALE DIDN'T set out to build a bookkeeping service staffed solely by women. That, she says, happened organically.
Click here to read this story in magazine format
"It is something we're becoming known for. We've had male co-op students work with us, and we may have men join the team in the future. We simply hire the best ­candidate, and it's been a pleasant surprise that, so far, that has turned out to be women."
Story Continues Below
It's a happenstance, says Queale, that has also turned out to appeal to some female-led businesses.
"It has resulted in some unique partnerships with ­entrepreneurs who sometimes feel more comfortable when we are helping them to understand the financial side of their business."
Queale established Synergy Tax & Business Solutions as a solo bookkeeper in 2008, and now employs seven people. The company has expanded its reach to serve clients in both Toronto and Edmonton, using shared office services in those cities that offer meeting rooms to meet with clients as needed, and where clients can drop off paperwork to be securely delivered to London where all the bookkeeping work continues to take place.
"Starting a new business can be daunting, and companies are looking for someone they feel comfortable with and that they trust" ―Sarah Queale
"We work with a lot of small companies and startups, up to 20 or 25 employees," says Queale.
"Starting a new business can be daunting, and ­companies are looking for someone they feel comfortable with and that they trust. Our biggest source of business is referrals from current clients — it's great to know that they are happy with us. We also have strong relationships with ­several ­accounting firms. They don't dabble in bookkeeping and we don't dabble in accounting; we're complementary businesses."
Synergy offers a full range of bookkeeping and tax ­services, enabling clients to choose those that they want or can't do in-house. Queale says the key is building relationships that help her staff identify and respond to client needs.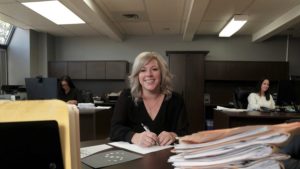 "No two clients are the same," she says. "A majority of our clients with a handful of employees use us as their finance department; others just want us to do their payroll and quarterly remittances and remind them about deadlines."
In other cases, the Synergy will put its expertise to use somewhat like a consultancy, helping businesses navigate one-off challenges, special projects or integrations. "We've acted as a bridge during an acquisition while the company was putting its finance department in place," explains Queale. "We've done software implementation projects, most recently for a manufacturing facility that was using an insanely complex and expensive system — we moved it all to QuickBooks."
Story Continues Below
A believer in lifelong education, Queale is in the process of attaining an Executive MBA from Ivey, which she feels will give her more tools to help clients make better business decisions.
"We are doing more project and ­consulting work, from costing to ­looking at business plans, and what I learn I can bring back to the team and our clients."

Kym Wolfe