For new Chamber boss Graham Henderson, prioritizing diversity and inclusion is the path to better business outcomes
Photo: Graham Henderson
BACK IN MARCH, one of the first things newly appointed London Chamber of Commerce CEO Graham Henderson did was sit down and digest the organization's strategic plan.
What he noted were some glaring omissions.
Click here to view this story in magazine format
"The mission, vision and values all looked good, but I noticed what was missing," he says. "There was no reference to community or to diversity, equity and inclusion."
 Story Continues Below
In the normal course of operations, the Chamber's strategic plan was not due to be updated until 2022, Henderson says. "But for a CEO to execute a strategic plan that is not his or her own, that can be difficult," he says.
Henderson reasoned his hiring presented a perfect opportunity to rethink the strategic plan ― and to re-examine the Chamber's role in the community.
"We are not just focused on building and growing the Chamber of Commerce, we are focused on the broader community" ―Graham Henderson
To get the ball rolling, Henderson pulled in voices and perspectives that have not been at the planning table in the past, and embedded DEI experts into the process at the front end.
Rumina Morris, London's director of anti-racism and anti-oppression, was tapped as a resource to deliver anti-racism training to all board and staff members. Indigenous advocate, Tia Kennedy, and DEI expert, Nicole Kiniki, are part of the strategic planning team.
 Story Continues Below
Henderson says engagement with Indigenous communities is built into the process, with a goal of honouring the business community's obligations under Call to Action 92 from the Truth and Reconciliation Commission.
"What excites Nicole, Tia and me are the focus groups we are planning that reach beyond current Chamber members to include Black, Muslim and Indigenous business owners," explains Henderson. "We are asking 'Why aren't you engaged with the Chamber? What changes are needed to create a more inclusive Chamber? What are the terms on which you want to be engaged?' We are not just focused on building and growing the Chamber of Commerce, we are focused on the broader community."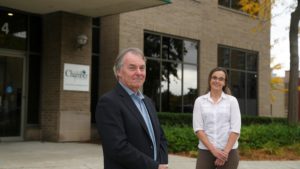 Henderson and the Chamber's VP of public affairs, Kristen Duever
Information gathering will continue through the fall, with a goal to have the new plan in place for January, but Henderson says he won't sacrifice quality for speed.
"We want to hear from everyone. There will be an online Chamber member survey in October, but if you're not a Chamber member and you want to have input, I invite anyone to email me."
 Story Continues Below
Part of the broader focus Henderson talks about is making DEI training more easily accessible, particularly for smaller businesses that may not be able to afford the expense. To do so, he's exploring the development of a free-to-access webinar, and is also reaching out and engaging with the London Community Recovery Network, the London Environmental Network, cultural institutions and other "folks who are not traditionally connected to the Chamber," he says.
"We are hopefully creating methodologies and a toolkit that will be of value to other Chambers across the province, and to members who want to start building their own path to DEI."

Kym Wolfe