Container popups coming to Dundas Place
The Festival of Markets holiday program will bring a dozen shipping container retail popups to Dundas Place
DOWNTOWN LONDON, IN collaboration with the London Community Recovery Network, Dundas Place and the City of London has announced the Festival of Markets program.
The holiday season program will take place each weekend from November 25 to December 19, with an additional event planned for December 23.
Story Continues Below
"Downtown is the destination for holiday shopping, dining and experiences. The collaborations between Downtown London, its community partners, local musicians, artists and the business community are coming together to create a truly exciting lineup," says Downtown London's executive director, Barbara Maly. "We look forward to welcoming shoppers and providing them with a best-in-class experience."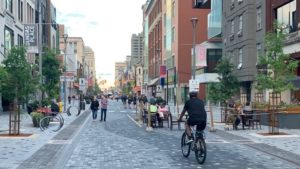 Photo: Dundas Place
During the festival, Dundas Place between Ridout Street and Talbot Street will be closed to car traffic to accommodate 12 shipping container units. The container units will be used by a diverse offering of different vendors, and the street will be programmed with large-scale art installations, projections and live music.
Story Continues Below
Each weekend will feature differing themed and curated vendors, including Indigenous vendors, vintage vendors, pop-art vendors, African vendors and a last-minute theme.
The Festival of Markets is an initiative developed out of the London Community Recovery Network to support London's recovery from Covid-19. The Festival of Markets program aims to support core-area businesses while creating a holiday destination for city residents and visitors.