VersaBank reports Q1 earnings
VersaBank continues to see high demand for its point-of-sale financing in Canada as it eyes U.S. financing rollout
ANCHORED BY CONTINUED year-over-year growth in its point-of-sale loan and lease receivables business, London-based fintech firm VersaBank is reporting a loan portfolio record and continued strong financial results for its Q1 2022.
According to VersaBank, a publicly traded Canadian chartered bank and fully digital financial institution, loans increased 24 per cent year-over-year and five per cent sequentially to a record $2.22 billion in its first financial quarter of the year, which ended January 31, 2022.
Story Continues Below
"Loan portfolio growth was driven by the continued expansion of our Canadian point-of-sale financing business as our unique, value-added model continues to resonate with consumer financing businesses and consumer demand for the types of goods and services they are financing remains strong," says VersaBank president and CEO, David Taylor, in a released statement.
Total revenue in Q1 increased 18 per cent year-over-year and increased modestly sequentially, to $18.3 million; and net income increased 5 per cent year-over-year but decreased 6 per cent sequentially to $5.6 million.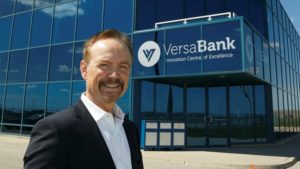 VersaBank president and CEO, David Taylor (file photo)
"We expect the strong momentum in our existing digital banking operations to continue throughout fiscal 2022, especially as we continue to deploy capital generated by our U.S. IPO, in particular to support continued high demand for point-of-sale financing in Canada," adds Taylor. "In addition, we have significant additional growth potential from the planned launch of our point-of-sale offering in the United States, as well as the positive impact of any increase in interest rates."
VersaBank's point-of-sale financing division operates a receivable purchase program, which involves purchasing loan and lease receivables from finance companies that operate throughout Canada and the U.S. in a variety of industries. The division has become a major contributor to the bank's total assets and revenue stream.
Story Continues Below
Additionally, the company reports having successfully completed its closed ecosystem testing for its first Digital Deposit Receipt (DDR), the Canadian-dollar based VCAD, which it is preparing for commercial launch.
"Our DDRs were developed to be a significantly better stablecoin – one-for-one fiat currency on deposit with our federally licensed, investment-grade rated Bank, and the highest level of security based on our own VersaVault technology," says Taylor. "We are very encouraged by recent regulatory trends in North America and around the world, which we believe will very firmly position our DDRs as not only a compelling digital currency for the market but also one that meets future regulatory requirements."