Info-Tech tops 1,000 employees
Getting set to mark 25 years of business this September, Info-Tech reaches a major milestone as it pushes past 1,000 employees
TECHNOLOGY RESEARCH, ADVISORY and consulting firm Info-Tech Research Group (ITRG) has reached a major milestone, cracking the 1,000 employee mark as it get sets to mark 25 years in business later this year.
Based at offices located at the corner of Ridout and King streets, the company, which also has offices in Toronto, Las Vegas and Sydney, Australia, now employs 1004 people ― and is currently looking to fill an additional 194 positions. Approximately 350 of those employees are based in London and 374 are in Toronto. The remainder are situated across North America and Australia.
Story Continues Below
CEO Joel McLean founded the company in September of 1997, working from one small room with a fax machine he used to deliver reports to early clients, outlining IT trends and solutions.
For the first decade and a half, the IT advisory concept was the model that fuelled Info-Tech's growth. Then McLean doubled down. He moved to a 30,000-square-foot office at Adelaide and Queens and created a new division, McLean & Company. It did for human resources what Info-Tech had already done for IT, providing case studies, templates and coaching for HR managers around the world.
The new division was an immediate hit and perfectly complemented the services members were receiving for their IT specialists.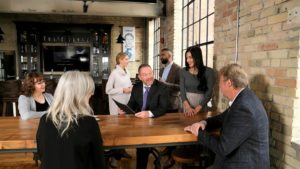 Photo: Joel McLean (centre) with team members (from left) Nora Fisher, Laura Hansen-Kohls, Annalena Eichenseer, Hussein Ahmed, Taylor Pritchard and Gord Harrison
Next up was software. In 2017, the company launched SoftwareReviews, dedicated to helping organizations choose and manage their software packages and subscriptions. It's this division savings millions of dollars for CrossCountry Mortgage, just one year after being engaged.
Buoyed by the success of SoftwareReviews and continuing growth in all other areas, the company moved again in 2018, investing $17.5 million to renovate several heritage properties and create a modern, 70,000-square-foot open-concept space.
Story Continues Below
In a recent feature story in London Inc., McLean said that while the pandemic brought resulted in considerable growth for the firm (revenue increased by 50 per cent in 2021), it was an enormous challenge because of changes both to Info-Tech's daily operations and in the expectations of its client-members, all of whom were scrambling to adapt as well.
"We worked flat out, really hard, to create pandemic playbooks to support our members," he said. "It was rapid work to support our members who were at all different levels of preparedness. We helped them to become more efficient, no matter where they were ­starting from. Some, of course, were already comfortable using a lot of technology. But we also helped a lot of doctors to change their processes. It was across a wide spectrum."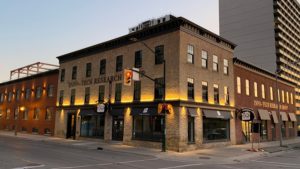 Photo: Info-Tech's London offices at Ridout and King streets
McLean says the company has expanded every year of its existence (it now services more than 30,000 member-clients worldwide), and he continues to look for 40 per cent annual growth organically across its various divisions.
"We've always been careful with our money and never had to raise capital," he says. "The demand for IT exceeds capacity in every organization, so there is a constant demand for our services. In addition, coming out of the pandemic every executive is becoming a technology executive, asking how they can use technology to do their jobs better. And our goal is always customer satisfaction. How do we delight them? That's what drives us."