Removing the cringe from syringe
London-based team of mother and daughters launch tool to combat needle anxiety in kids
WITH THE U.S. having approved them recently, it likely won't be long before Covid vaccines are available to kids under five, and that might be great timing for a London mother-daughter-daughter trio launching a simple new device to cut down on needle anxiety for young kids.
Created by Cheryl Muise, a registered nurse with over 40 years of experience, and her daughters Cailey Koornstra and Lace Oxby, and product is called Needle Buddies ― a customizable needle cover that "disguises the scary needle and syringe" for kids for whom needles are a stressor. (Which is a lot, apparently ― according to the company, 90 per cent of children 14 to 18 months old, and 45 per cent of kids four to six, demonstrate "severe stress" during vaccinations.)
Story Continues Below
"Seeing the scary needle and fear of pain are the two things that make children anxious during injections," the company said in a press release. "Using a Needle Buddy along with a skin-numbing product, such as an ice pack or numbing cream, goes a long way in combating needle-based fear and anxiety before it begins."
Few kids will ever be thrilled about needle-getting, but the creators say that the product succeeds in part by giving children a sense of control through the customization aspect. It may also help nip needle anxiety in the bud early, which has other knock-on benefits: among those adults who don't get immunization, 71 per cent say that it is because they are afraid of needles, which in turn contributes to over $7 billion in lost time and healthcare costs that low inoculation rates create.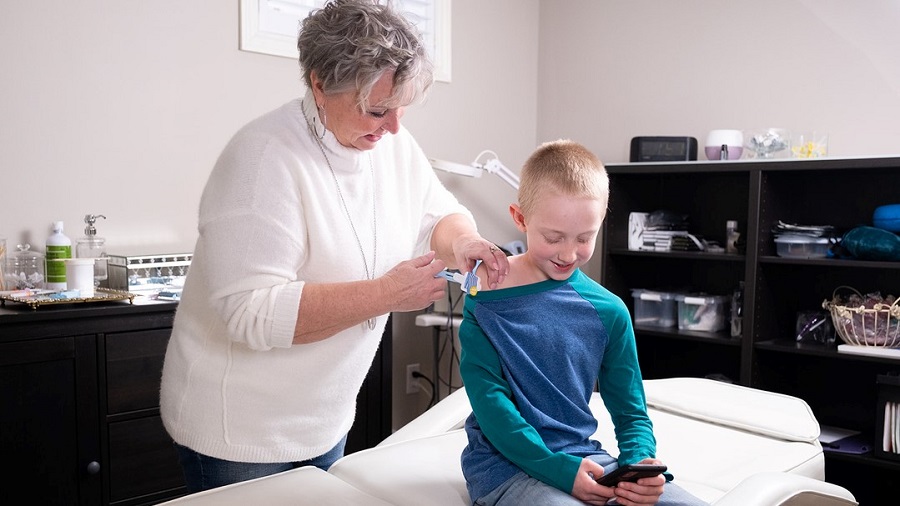 Photo: Founder and registered nurse Cheryl Muise demonstrates the Needle Buddies application
It's an experience that was personal for Muise. "I had significant needle anxiety as a child even into my early twenties," she says. "I have conquered it now ― but many do not ― and I won't forget the physical and emotional anxiety I'd experience. I almost fainted once when I had to go to the school nurse to get a vaccine I had missed ― just seeing all those syringes lined up on her tray had me seeing spots in front of my eyes. All of that stemmed from bad experiences with getting needles as a child.
Story Continues Below
"I have a grandchild that needed surgery at Sick Kids and we just started talking about the lack of tools available for healthcare providers to make medical experiences easier for little ones," she continues. "I did some research and found a study that trialed decorating syringes and IV bags with stickers and just that little intervention improved anxiety significantly, but no products came on the market."
The mother-daughter-daughter team says they worked with the Hamilton-based Innovation Factory, as well as with Humanscope, a Barrie-based product development company, to create and produce the Needle Buddies. It's the second product that Muise has brought to market within this entrepreneurship program ― a couple years ago she released the BTXpen, a dial-a-dose syringe that was designed for use with botox injections, pet insulin and self-injections.
The Needle Buddies sell to consumers on Amazon, but they are also selling the product in bulk to doctor's offices.

Kieran Delamont